Report 28/02/23
Last Sunday posed my first race of the season. The pre race nerves were really there due to this being the first time in 5 months since being ill that I was really going to push myself. I also had to ride a bike I've never ridden before due to my bottom bracket breaking on my race bike. That meant that I had to ride my dads bike which is too big for me so that was obviously sub optimal.

After a 4:50 start I arrived on time got a bit distracted talking to people giving me time for a 6 minute warm up.
The race itself went well my pacing strategy was pretty much spot on although I was held up pretty majorly in the town section of the race with some people having a chat in the middle of the road so time was lost there

Overall I finished 1st in juniors and mid pack in the men's with a time of 1 hour 15 which is a not too bad result considering the course and how I'm not race fit yet

All in all a steady start to the season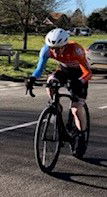 Report 20-02-23
Race Week.
With my first race coming round the corner my race preparations are starting I am riding the North Road CC Hardriders round 1 25mile TT this upcoming Sunday. I like to rank my races on a scale of ABC. An A race for me is a race where I'm tapered and really looking to be in top shape shape. A B race is a race that is important but not a top priority with tapering and is used for testing and experimenting for different strategies. A C race for me is a race that I would enter to get some good training in and the result would not matter too much.
I am ranking this race as a B race, it's the start of the season for me and with the Merlin Classic Series in a months time this is a great way to kick off the season. I have been debating whether to race this TT on my road bike or TT bike. With differing advice from people around me I've chosen to ride it on my road bike as I am competing the Merlin Classics in the road bike category.
Training has been going very well lately, with a tough end to 2022 with multiple injuries and illneses I had a steep fitness mountain to climb, but with a lot of hours and hard rides under my belt so far I'm still some way of full fitness but I am starting to feel the benefits of a couple of good training blocks.
The TT on Sunday seems to be a course that I will enjoy and it really does play to my strengths. The course is very hilly and technical with watts per kilo being more important than raw power so I am looking for a good result. The plan for me is to hold around 5 or 6 watts per kilo or 340 watts up all the climbs and try to recover the best I can down the hills. With this being a B race I will be experimenting with different pacing strategies to try and find the best for me.